UN-GGIM Fifth High Level Forum
Start:
Tuesday, 28 November 2017 09:00 UTC
End:
Thursday, 30 November 2017 17:00 UTC
Details: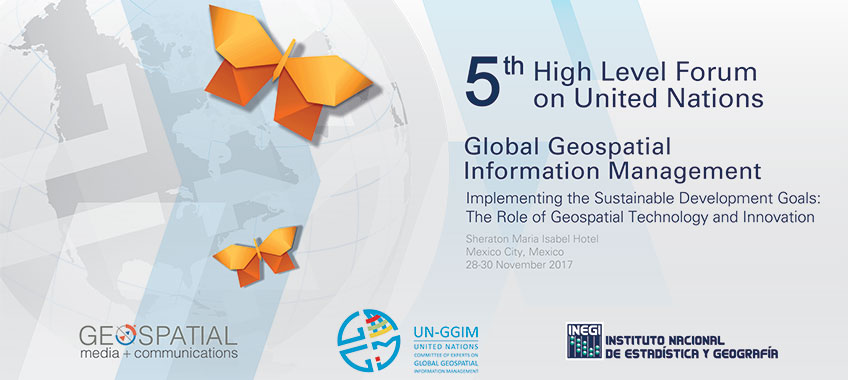 The United Nations Committee of Experts on Global Geospatial Information Management (UN-GGIM), in collaboration with the Government of México through Instituto Nacional de Estadística y Geografía (INEGI) will convene the Fifth High Level Forum on United Nations Global Geospatial Information Management in Mexico City from 28 - 30 November 2017. This fifth edition of UN-GGIM's High Level Forums will have the substantive support from each of the five Regional Committees of United Nations Global Geospatial Information Management (UN-GGIM: Africa, UN-GGIM: Americas, UN-GGIM: Arab States, UN-GGIM: Asia and the Pacific, and UN-GGIM: Europe), as well as the UN-GGIM: Private Sector Network, the UN-GGIM: Academic Network and the UN-GGIM: Geospatial Societies.
In response to the transformative nature and broad needs of the 2030 Agenda for Sustainable Development, the Fifth High Level Forum on UN-GGIM recognizes the need for an in-depth dialogue on geospatial technology, innovation, and the importance of public-private partnerships for the promotion of geospatial knowledge and services to attain the SDGs. Therefore, and with an overarching theme: "Implementing the Sustainable Development Goals: The Role of Geospatial Technology and Innovation" the High Level Forum will provide Member States and geospatial information stakeholders the unique opportunity to exchange knowledge, practices and experiences and afford peer-to-peer learning on strategies, approaches and methods to support sub-national, national and regional initiatives towards increasing availability, accessibility and application of high-quality, reliable and timely geospatial information for sustainable development.
The Forum aims to substantively improve and strengthen the national geospatial information management capacities of countries, particularly developing countries, towards implementing the 2030 Agenda and evidence-based policy and decision making.
Registation available at the following link: http://geospatialmedia.net/unggim/online-registration-form.asp
Contact details:
UN-GGIM Secretariat: 
Mr. Greg Scott
Email: scott12 [at] un.org
Ms. Vilma Frani 
Email: frani [at] un.org
INEGI, Mexico (for arrangements in Mexico City) 
Ms. Ana de Lara 
Email: ana.delara [at] inegi.org.mx